 
Perseo 60W
Flyng insect exterminator with sticky paper insect trap. Specially design to prevent pes presence in commercial areas which respect hygiene standards and HACCP regulations. 100% MADE IN ITALY
HACCP Certified - WARRANTY 3 Years
SECURE PAYMENT with Credit Card or Account PayPal

EXPRESS DELIVERY in 4/5 working days (EUROPE)

WARRANTY - 2 years o 4 years for Professional Line
PERSEO 60W i provided with two special 30W actinic lamps which attracts all flying insectss (flies, mosquitos, wasps, gnats, moths...).
It is completely made in high resistance powder coated metal and is equipped wuith a sticky paper withpheromone and food attractants.
PERSEO 60W is specially designed to prevent pest presence in commercial areas which respect hygiene standards and HACCP regulations.
Installation and use
PERSEO 60W can be wall-mounted with two plugs or it can be hung up with a little chain.
Recommended height above around: 2 m.
Perfectly safe for people.
We recommend leaving the device constantly switched ON - Minimal energy consumption (about 1 kw every 24 hours).
Replace Sticky paper every month. Replace the lamps after 6000 hours with origianl spare parts.
It is the ideal device for food industries, supermarkets, butchers, fish markets, dairies, refectories, big kitchens, etc...
Effective area:
200 square meters indoors
Warranty:
3 years
---
TRAPPENS' MACHINES ARE COMPLIANT WITH THE FOLLOWING STANDARDS:
ITALIAN PRESIDENTIAL DECREE 327 OF 26/03/1980 AND SUBSEQUENT AMENDMENTS REGARDING HYGIENE AND HEALTH FOR EFFICACY, HYGIENE AND SAFETY OF PERSONS;-ITALIAN LAW DECREE NO. 155 OF 26/05/1997, DIRECTIVE 93/43 EEC AND 96/3/EC (HACCP);
ITALIAN LAW DECREE NO. 156 OF 26/05/1997, DIRECTIVE 93/99/EEC (HACCP);
EEC STANDARDS ON THE SAFETY OF PERSONS
HACCP Certified.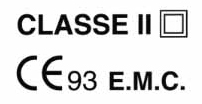 Data sheet
DImensions

490 x 310 x 170 mm

Weight

kg 4.5

Power supply

230 Volt - 50 Hz

Actinic lamp

2 x 30W / Optional 2 x 30 w SHATTERPROOF

Sticky paper

300 x 400 mm
You might also like