 
Tiger 32 W
Flying insect exterminator. Patented in 1986 and 100% Made in Italy
Revolutionary - Ecological - Safe
SECURE PAYMENT with Credit Card or Account PayPal

EXPRESS DELIVERY in 4/5 working days (EUROPE)

WARRANTY - 2 years o 4 years for Professional Line
Besides being an insect Exterminator, TIGER 32 has an elegant and capacious drawer which makes it ideal for all professional uses where the problem of insects has to be dealt with effectively but discreetly. The capacity of the drawer greatly lengthens the times between maintenance and cleaning jobs.
Motor with long-lasting bearing.
Installation and use
The machine can be fixed to any flat surface using a small block (recommended height 2 metres from ground level). It is absolutely safe for people.
We recommend leaving the device constantly switched on. Replace the lamps afetr 6000 hours with original spare parts (Trappen).
Use
Ideal for Restaurants, Bars, Kitchens, Food Shops, Canteens, Storerooms, etc…
Coverage
Indoors: 150 square metres Outdoors: 75 square metres
Warranty:
4 years
---
TRAPPENS' MACHINES ARE COMPLIANT WITH THE FOLLOWING STANDARDS:
ITALIAN PRESIDENTIAL DECREE 327 OF 26/03/1980 AND SUBSEQUENT AMENDMENTS REGARDING HYGIENE AND HEALTH FOR EFFICACY, HYGIENE AND SAFETY OF PERSONS;-ITALIAN LAW DECREE NO. 155 OF 26/05/1997, DIRECTIVE 93/43 EEC AND 96/3/EC (HACCP);
ITALIAN LAW DECREE NO. 156 OF 26/05/1997, DIRECTIVE 93/99/EEC (HACCP);
EEC STANDARDS ON THE SAFETY OF PERSONS
HACCP Certified.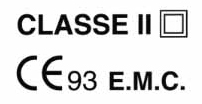 Data sheet
DImensions

270 x 380 x 165 mm.

Weight

Kg 2,2

Power supply

230 Volt - 50 Hz

Actinic lamp

32 W / SHATTERPROOF

Power

50 W

Power consumption

1 kw / 24 hours
You might also like