 
Tornado
Ideal in all places with a high density of flying insects, thanks to an ingenious Turboaspiration system it guarantees hygiene and healthiness.
100% MADE IN ITALY - HACCP Certified - Revolutionary - Ecological - Safe - WARRANTY 2 YEARS

SECURE PAYMENT with Credit Card or Account PayPal

EXPRESS DELIVERY in 4/5 working days (EUROPE)

WARRANTY - 2 years o 4 years for Professional Line
Two special 30 Watt actinic bulbs attract the insects (mosquitoes, wasps, gnats, moths etc.) and a genial turbosuction system conveys them to a 20 litre sack where they are trapped. The sack must be emptied regularly.
Installation and use
The machine can be fixed to a wall using 4 plugs, at a height of at least 2 metres, or onto the stand (OPTIONAL). It is absolutely safe for people and animals. Tornado can be used outdoors as it is made from weatherproof stainless steel.
Use
Ideal where there are many flying insects such as shopping centres, factories, warehouses, gardens, cattlesheds, etc.
Coverage
300 square metres
Attraction distance: 18 metres
Warranty:
2 years
---
TRAPPENS' MACHINES ARE COMPLIANT WITH THE FOLLOWING STANDARDS:
ITALIAN PRESIDENTIAL DECREE 327 OF 26/03/1980 AND SUBSEQUENT AMENDMENTS REGARDING HYGIENE AND HEALTH FOR EFFICACY, HYGIENE AND SAFETY OF PERSONS;-ITALIAN LAW DECREE NO. 155 OF 26/05/1997, DIRECTIVE 93/43 EEC AND 96/3/EC (HACCP);
ITALIAN LAW DECREE NO. 156 OF 26/05/1997, DIRECTIVE 93/99/EEC (HACCP);
EEC STANDARDS ON THE SAFETY OF PERSONS
HACCP Certified.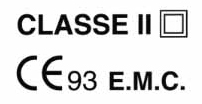 Data sheet
DImensions

360 x 500 x 790 mm

Weight

kg 14 / Kg 25 with stand

Power supply

230 Volt - 50 Hz

Actinic lamp

2 x 30 Watt (Optional 2 x 30 W ShatterProof)